When we set out to completely revamp our online presence last Summer, I didn't realize what an arduous and time-consuming process it would be. Our management team agreed that we wanted a site that was clean, easy to navigate, told our story in a more personal way, and was video-centric. We turned to Gain Website, the local web design company who designed our previous site, with this challenge. I fully expected them to politely decline and recommend that we work with a different company. Much to my surprise, they were excited to take on this creative challenge and chomping at the bit to get to work. Judging their capabilities based on their own website would have been a mistake… since we all know about the feet of the shoemaker's kids, right?
Since we knew that we wanted a video to be a major component of the site, we contacted a local video production house, Billy D Productions. This, too, was a bit of a stretch, since the majority of their work centered around weddings and special events, but they came highly recommended. The owner, Bill Dowling, won me over with his passion for his craft, along with his excitement over his latest toy, a Red Digital Cinema camera, which was the financial investment equivalent of a new set of wheels. Even better, WE were his first project using his newly acquired equipment. I'm in!
Now that the players were all on-board, we went to work internally on creating the content. This was no small feat, as you can imagine.  We worked for months… writing, editing, scrapping, tweaking, approving (then scrapping), and re-writing, version after version. While we were in the process of creating the content, Gain Website's Alec Shekhar, took the bold first move of trying to interpret my cryptic vision for the site layout. While his effort was a valiant one, this first pass was not what I was picturing in my mind. Not even close… so, of course, I panicked. Maybe this was a mistake. Maybe we should stick with a more ubiquitous, vertical scrolling website, using a simple template.
Thankfully, this momentary, panic-induced, insanity dissipated and we bellied back up to the drawing board. The next version was closer, but not the image that was looping in my head. But now, thanks to these early versions, I was able to articulate a little better what I wanted, or at least what I definitely did NOT want!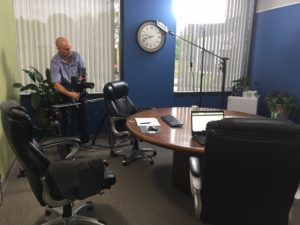 As the layout was getting closer, so too was the content. Our goal was to make navigation intuitive and avoid heavy paragraphs full of details that few would ever take the time to read. I am a huge fan of testimonials, as our customers' words are far more powerful than anything I could say about our company. So, they had to blend with this new video layout, without sticking out like a sore thumb.
Now, with the content and structure of the site solidifying, we were faced with the most exciting (and daunting) part of the project… the video shoot! Since the office is usually relatively spotless, the office preparation was a non-event. Preparing ourselves to be in front of the camera under the increasing hot lights, for hours (not the days that it seemed), was a different story. I quickly discovered that acting is not something I could ever put on my resume with a clear conscience. It is not easy to interact with others, saying nothing of substance, yet trying to appear genuine, while the camera is rolling… especially on the 15th take! We all gained a newfound respect for anyone (unless their last name is Kardashian) who attempts to make a living faking it on camera (aka "acting").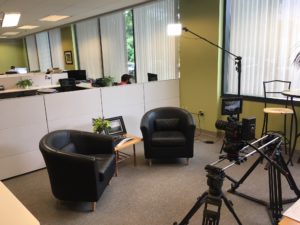 We encourage you to visit BrandywineTechnology.com to see the result of almost 7 hours of shooting, as many hours cleaning up, condensing, and stitching together the finished product.  The result is a looping 30-second video clip, including drone footage of our building that was captured just after dawn. Just for fun, see if you can pick out on the scenes that were created in each of the pictures shown here.
I remain a fan of the work of the small team of professionals that came together to create this very personal depiction of what Brandywine Technology is all about… people.
To learn more about Brandywine Technology, you certainly know the website, or you can call us on 302.656.6100.