When you hear "Hard Rock Casino", you likely think of rock and roll memorabilia, or flashing lights and bells indicating a winner on one of the hundreds of slot machines.  You may also be reminded of a great meal shared with friends in one of their famous restaurants. When WE hear "Hard Rock Casino", we think of computer networking, communications infrastructure and an IT support desk that serves the thousands of internal employees and guests.
As a global brand offering white-glove experiences and access to rare and iconic artifacts, including Elvis Presley's 1963 custom Rolls Royce Phantom, Roy Orbison's famously tinted (and impossibly thick) glasses, and even Michael Jackson's sequined glove, Hard Rock personnel know a thing or two about delivering top-notch service.
As one of the region's premier IT staffing firms, Brandywine Technology was approached by the Hard Rock Hotel and Casino Atlantic City to assist with providing technical resources. When Hard Rock International purchased the former Trump Taj Mahal Casino building on the boardwalk, they embarked on an extreme makeover of the facility, which even included running a bulldozer across the casino floor, ripping out all cabling in one fell swoop. Since that time, the IT team has been building a world-class network to support the high-tech environment.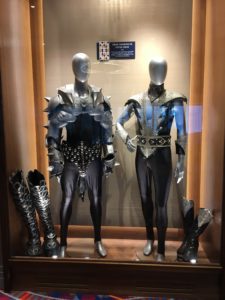 "We make it a point to be onsite for every single interview and new job start," says Greg Plum, Brandywine Technology's director of marketing. "Actually, we do that for every customer, but not all visits are as entertaining as our Hard Rock meetings. On my first visit, I was treated to a glimpse of the original outfits worn by the members of KISS. As soon as I laid eyes on Gene Simmons' iconic demon platform boots, I immediately reverted to my sixth-grade self… an overly excitable member of the KISS Army!"
Brandywine Technology is proud to provide the technical team at the Hard Rock Hotel and Casino Atlantic City with qualified technical resources to accomplish their growth goals. To learn how we can help you with your technical staffing needs, as we are for Hard Rock Hotel and Casino Atlantic City, visit www.BrandywineTechnology.com, or contact us on 302.656.6100. For more customer spotlights, click here.