In this edition of the Brandywine Technology Employee Spotlight, we chatted with a former employee!  Why?  Juan Sostre was with us to help CompassRed, a data science agency start-up, with some of their growing customer needs.  After some time with CompassRed as a contractor, they chose to convert him to a full-time employee, hence making him a former Brandywine Technology employee… with a great story!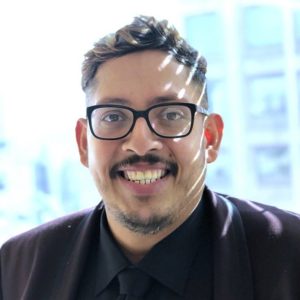 Q:  Hey Juan, thanks for spending some time with us.  Congratulations on leaving the Brandywine Technology nest to join one of the area's most talked about data science companies. How did you first learn about Brandywine Technology?
A:  I learned about Brandywine Technology when I was approached for a career opportunity by Derek Kilby. While I was interested in a new challenge, I was not familiar with Brandywine Technology or CompassRed until that phone call, which had a profound impact on my career!
Q:  What are you doing now?
A:  Currently, I am working as an Enterprise Architect at CompassRed, a predictive analytics and insights company. I joined the company through Brandywine Technology as a contractor, and recently converted to a full-time CompassRed employee.
Q:  What does your typical day look like?
A:  Most days I work directly with our clients. The work varies, but can include consulting about security and architecture best practices, helping companies manage their path forward in the cloud, and other enterprise-level projects. I also help with CompassRed's own architecture, specifically as it relates to data science projects.
Q:  What were you doing prior?
A:  Prior to CompassRed, I worked as a SharePoint Administrator at a nonprofit organization, and before that an Infrastructure Engineer at a different nonprofit.  I was intrigued by the opportunity presented by a start-up in the predictive analytics space.
Q:  What's next for you?
A:  Continuing to grow into my role as an Enterprise Architect, looking at ways to get better at my job, and how I can better engage with customers, and co-workers. I am also looking at places to leverage the knowledge I do have, and opportunities to gain more via certifications.
Q:  Do you have any advice for anyone that may be considering a career in IT?
A:  Never turn down work. By that I mean, even if your role is very specific, accept opportunities to do something new if you are offered the opportunity. I've learned the most by taking things on, even if I wasn't totally comfortable with the subject matter. It's those opportunities that gave me the most space for growth. And really, you learn a lot about what type of work you actually enjoy… you might surprise yourself!
Thanks, Juan, for sharing your experiences with Brandywine Technology, and your recent hiring by CompassRed! For more information on Brandywine Technology, email [email protected] or call 302.656.6100.